From €1 per hour


You want to visit Rome and you do not know what to do with your luggage? With Nannybag, you can find safe luggage storage across the city by entrusting your luggage to local hotels and selected stores. The service is available from €1 per hour so do not hesitate and enjoy your day!
What to do in Rome ?
A stroll into Rome's industrial past
Until it closed in the late 1970s, the Mattatoio in the Testaccio district of Rome was the city's main slaughterhouse. Today, the complex is a jigsaw of different entities: a modern art gallery, a school of architecture, a music school, an organic supermarket. There is a weekend farmers' market and a cafe whose tables spill out onto a grassy space in which children play while parents drink in the deckchairs provided. Although specific events and exhibitions have to be paid for, there is always something wonderful that doesn't: an art installation, a freshly painted mural, a cheese-tasting, an impromptu concert by students from the music school. Parts of the complex are yet to be developed and this provides a fascinating reminder of the original purpose of one of industrial Rome's most significant buildings.
• Piazza Orazio Giustiniani. How to get there: Metro B to Piramide, Number 3 tram to Via Marmorata, 75, 23, 280 bus to Via Marmorata or 719 bus to Via Galvani
Basilica Santa Maria and St Valentine's skull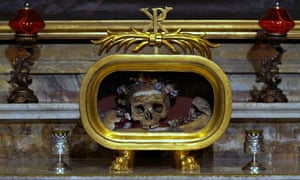 There's a scene in Blackadder when Lord Percy proudly reveals he owns a "true relic": a bone "from the finger of Our Lord". Baldrick looks stunned: "I thought they only came in boxes of 10," he exclaims. Relics may not always be convincing but that doesn't diminish the remarkable aura of some of the holy artefacts in Rome's churches. And as saintly relics go, the flower-crowned skull of Saint Valentine is a sight to behold, whether it belongs to the patron saint of lovers or not. It is in a gold box, and is surrounded by candles and fresh bouquets. The skull is an intriguing attraction to witness, in addition to the rest of the Roman temple it's located in.
• Piazza della Bocca della Veritas 18. Open daily 9am-5pm and 10am-5.50pm during the summer
The world's most classical cat sanctuary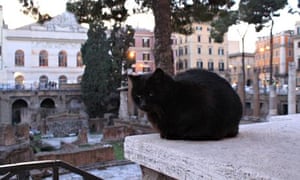 Cat homes don't come much plusher than this feline resort set among the ruins of Torre Argentina. Excavated in 1929, the area contains the remains of four Republican temples as well as Pompey's Theatre: the site at which Julius Caesar is believed to have been assassinated. Cats began hanging out there when the archaeological site was first opened, making the most of the shelter and protection provided by the below-street-level ruins, and were kept fed by friendly "gattare" or cat ladies. In the 1990s it became a more formal operation, although the shelter is still technically squatting on the land, and visitors drop in to enjoy what is one of Rome's more curious attractions.
• Via di Torre Argentina, +39 06 454 25240, romancats.com. Open daily midday-6pm. Donations welcome
Find your own treasures at Monti's vintage market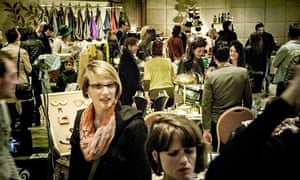 Not far from the Colosseum you'll find the hip quarter of Monti, which hosts a fantastic "urban market" every weekend – held in the conference hall of Grand Hotel Palatino. Founded in 2009, the market is a blend of contemporary creativity and vintage fashion: expect to find everything from handicrafts from cutting-edge designers to retro clothing, furniture and homeware items. The colourful and diverse array of trinkets and fashion on sale makes Mercato Monti an ideal place for a weekend wander, and the perfect excuse to explore the other independent stores and galleries dotted around the rest of the area's small streets.
• Via Leonina, mercatomonti.com. Every weekend 10am-8pm
Enjoy a film for free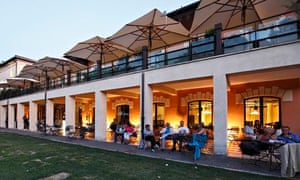 In the beautiful Villa Borghese – a public park well worth a stroll around – the Casa Del Cinema is the result of an ambitious project, launched in 2001, to transform a derelict pavilion into a hub for the silver screen. With state-of-the-art projection equipment making it the most modern cinema in the city, the Casa Del Cinema (also home to a film library and a cafe) is a dreamland for film fans. The cinema has special presentations where you may get the chance to mingle with directors, producers and stars. There's an emphasis on screening classic original language films, but you can also expect to see films from the most recent Venice film festival, and the City of Rome subsidises screenings every afternoon and evening – meaning you can always catch a cinematic treat for free.
• Largo Marcello Mastroianni 1, Villa Borghese, casadelcinema.it. Open daily, see website for screening times
View contemporary art at the Sala 1 gallery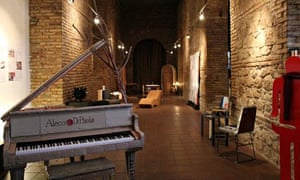 When Sala 1 opened in 1970 it was one of the city's first galleries to showcase experimental and contemporary art; hosting shows such as an exhibition of South African art in 1993, and more recently projects from Iraq and Bangladesh. Today, the not-for-profit gallery, which was founded by priest-sculptor Tito Amodei and is directed by American curator Mary Angela Schroth, continues to programme dynamic exhibitions that visitors are unlikely to find elsewhere in a city traditionally more focused on its historical trophies. With that in mind, the gallery's location inside an ex-basilica owned by the Vatican and offered to Amodei by the Holy See, only makes the space all the more fascinating.
• Piazza di Porta San Giovanni 10, salauno.com. Open Tues-Sat 4.30pm-7.30pm
Diggin' the blues at Big Mama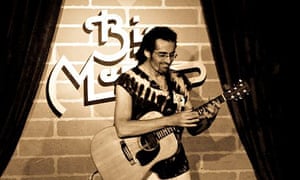 Opened in 1984, this blues joint offers free admission to most shows and with a hall of fame that includes the likes of Chet Baker and Jeff Healey, it is one of the best live music venues in the city. In the Trastevere district, the cosy venue – which can only seat around 150 people – puts on hundreds of gigs each year. Having just celebrated its 30th birthday, there's never been a better time to drop by and don't be put off by the blues tag: the venue hosts a wide range of acts, playing jazz, rock, disco and soul.
• Vicolo di San Francesco a Ripa, +39 06 581 2551, bigmama.it. Open Mon-Sat 9pm-1.30am, shows start at 10.30pm
Discover the work of sculptor Hendrik Christian Andersen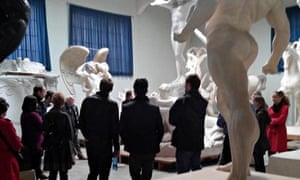 The ambitious yet somewhat obscure Norweigan-American artist Hendrik Christian Andersen moved to Rome at the end of the 19th century where he lived for over 40 years. When he died he left all his works to the Italian state, and his studio home – an art-nouveau villa between the river and via Flaminia – was eventually converted into a museum where some 200 sculptures, 200 paintings and 300 graphic works are now displayed. With an interest in urban planning and architecture, much of Andersen's work is inspired by the idea of a great "world city", an intriguing concept to explore in the context of a visit to Rome itself.
• Via Pasquale Stanislao Mancini, 20, museoandersen.beniculturali.it. Open Tues-Fri 9.30am-6pm, Sat-Sun 9.30am-7pm
The drama of the Burcardo Theatre Museum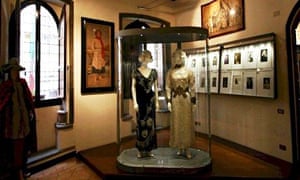 Filled with costumes and artefacts, the Burcardo Museum holds a collection dedicated to Italian theatre history. Open to the public since 1932, the collection includes a number of beautifully crafted sculptures, including plaster busts depicting writers and actors from the past two centuries and a photography archive with thousands of dramatic (literally) black and white images of thespians in action.
• Via del Sudario, +39 06 681 9471, burcardo.org. Open Tues and Thurs 9.15am-4.30pm, Fri 9.15am-1.15pm
Take in the view from the Gianicolo hill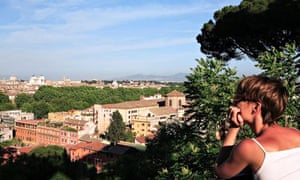 It is outside the ancient city, so Gianicolo may not be counted among the proverbial "Seven Hills" of Rome, but it makes up for it by providing one of the best views across the rooftops. The hill provides a spectacular view of the domes and spires that make up the historic skyline. Up on the hilltop itself is a statue of Garibaldi: a charismatic figure in the Risorgimento (a movement that sough to unify Italy), and this marks one of the best spots to enjoy that great view and, in true militaristic style, every day at midday a cannon is fired, part of a tradition that started in 1847 to signal the time to the surrounding bell towers.
So feel free to visit Rome but don't forget to book a luggage storage to enjoy !
Source : https://www.theguardian.com/travel/2014/may/06/top-10-free-things-to-do-rome-italy